---
---
---
India Pilgrimage with Raghunath
Oct 12, 2018 - Oct 23, 2018
Save your spot and start planning
Back to the motherland!
The home of yoga, mystics, mantras, sadhus, chanting, samaosas, Ayurveda and most of all devotion and love! Without a guide it's easy to get lost in the craziness of modern India. To decipher the mystery Raghunath will be that guide to introduce you to spiritual India. Visiting like yogis; not tourists. We're not going to park it at some hotel and do asanas. This is the real deal. Raghu will take you to the holy cities and villages that have been dear to the yogi's and devotees since before recorded time. He will teach asana, and philosophy regularly and give reading assignments from books of ancient India so you can enter into the mood. More than tourism it will be a chance to learn and grow. We'll learn meditation techniques, study sacred texts, and dine on authentic and excellent vegetarian food. Because he has spent a lot of time in India with sadhu's and saints, We will meet up with other guides, friends, Vedic astrologers, palmists, & swami's whom Raghunath knows of, or has known intimately for years. We're going to deepen our understanding of yoga culture. With a proper guide India can be a portal to another time-an ancient spiritual culture. It still exists side by side with the modern. As you discover it you will consequently discover yourself a little more and then your life will never be the same. Hare Krishna.
(itinerary yet to be announced)
---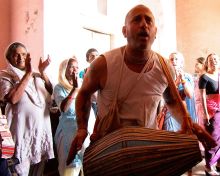 Codes of a Yogic Pilgrimage: Important Information From Raghunath
This trip is pilgrimage and as such, not designed to be a "vacation", but rather a yogic learning experience. Of course, you will see many places and be guided in your travels, but the focus is on spiritual growth and not just sightseeing.
India is a "3rd world" country. Please do not expect ANYTHING to be up to American or European standards. Students sit on the floor (if you need a chair due to health issues it can be arranged) and live simply. Many of the teachers and guest lecturers wear traditional Vaisnava dress (dhotis/robes/saris). We will visit temples, including Hare Krishna temples & ashrams. The pilgrimage includes kirtan (group singing of traditional Sanskrit mantras) as well as japa (individual chanting of mantras on meditation beads). Travel in India can involve some austerity, but our teachers are all seasoned veterans of many pilgrimages. All reasonable measures will be taken to proved and care for students, but the environments through which we will travel will impose limits.
We request guests to follow a codes of behavior compatible with a yogic pilgrimage. This code includes eating exclusively vegetarian or vegan. No meat, fish or eggs. Consumption of alcohol, non-prescribed drugs and use of tobacco is not permitted. We reserve the right to ask anyone to leave the trip at any stage and without any refund for breaching this code of conduct.
Students will see many sights in exotic locations, but the primary purpose of the trip is not sightseeing. We will practice asana, pranayama, Japa meditation, do a lot of kirtan, tell the stories of ancient India, chant mantras and otherwise explore the ancient yogic traditions. This training and journey have been designed in the hope it be a magical, transformative, and life-changing experience!
---
Testimonials
"The trip to India with Raghu was amazing. As a first time visitor I felt completely at home. And with Raghu as our guide we were true yoga pilgrims! It was a real treat to have Raghu share his wealth of knowledge with us. Our bus trips were filled with lively discussions and readings from holy books. We saw and experienced a lot. I definitely recommend going to India with Raghu". -- Peter Barnett, Yoga Teacher and owner of BLACK DOG YOGA, Sherman Oaks, Ca.
"Raghu is an awesomely inspiring guide who makes this trip a true pilgrimage-a deep, uplifting, spiritual, life-changing experience." -- Molly Davidson, Yoga Teacher, Laughing Lotus NYC