---
---
---
PILGRIMAGE TO SACRED NEPAL : Kirtan, Japa, & Trekking Through the Himalayas
Mar 27, 2018 - Apr 8, 2018
Save your spot and start planning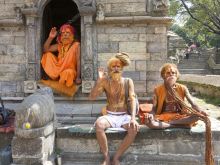 I'm are excited to announce our Sacred Pilgrimage to Nepal! Before Nepal was a country it was made up of kingdoms and part of the Indian subcontinent. Great history of Nepal has been told in India's classic Mahabharata. Since then it has also been holy pilgrimage spot for worshippers of Vishnu, Shiva, Durga and eventually Buddhists. The stunning beauty of the Himalayas attracts nature lovers who want to connect with the unspoilt beauty of the mightiest of mountain ranges. That being said we travel on this journey as pilgrims. (See below for the tenets of pilgrimage.) I'll be accompanied by Janeshwar my classically trained drummer and friend from Bengal India and we will do kirtan (call and response chanting) & morning and evening talks on the wisdom literature of ancient India. I will teach the science of japa meditation or chanting mantras on malas and how to refine it as we walk in prayer throughout the Himalayan range as the sages have done for millenia.
On the trekking days there may not be time for too much "official" yoga asana classes as the trekking can be exhausting but we can practice in the cities.
Nepal Pilgrimage March 27 – April 8
Tentative itinerary March 27 – Arrive in Kathmandu airport and transfer to hotel March 28 – Explore UNESCO temples March 29 – Drive to Trishuli river for rafting and overnight stay on riverbank March 30 – More rafting and drive to Pokhara March 31 – Drive to Nayapur and trek to Tikedunga/Ulleri April 1 – Trek to Ghorepani April 2 – Trek to Poon Hill for sunrise view of major peaks and then trek down to Tatopani April 3 – Drive to Kagbeni along banks of sacred Kali Gandhaki River April 4 – Trek up to Muktinath/ drive down to Jomsom April 5 – Morning flight to Pokhara (please note: this flight often sells out way ahead of time in which case we'll have no choice but to go by jeep (about 6 hours). April 6 – Pokhara April 7 – Morning flight to Kathmandu and explore Bhaktapur
April 8 - Airport drop off for onward journey
**IMPORTANT I lead this like a traditional pilgrimage and the students are asked to follow the tenets of ALL my pilgrimages. Besides being physically fit, students must agree to follow a vegetarian diet abstain from all alcohol, tobacco or intoxication on the pilgrimage. Tenants of Pilgrimage 1. i" will Not Criticize"-we refrain from criticism & gossiping. 2. " I will be tolerant"- I will stop blaming things, circumstances, or people for my unhappiness. 3. I take no offense- A practice of NOT compiling records of others wrongs but accepting circumstances as God's will , forgiving immediately and completely if I'm offended. 4. "I am always ready to ask for forgiveness for MY offenses" - a practice of responsibility and sensitivity 5. " I will find the good in others and let them know it."- a practice of seeing greatness in others 6. "I will keep a tally of my gratitudes and blessings" a practice of recognizing all the gifts in my life on a regular basis.
REGISTER: Raghu.pilgrimage@gmail.com
---

"The mountains are calling and I must go." -John Muir
When and Where should you arrive?
Please book your international flight to arrive and depart from Kathmandhu international airport. Plan on arriving on March 26 or latest by 1pm on March 27 and leaving on April 8 at any time. Hotel check in is noon on March 26 and check out is noon on April 8. You will be met outside the Kathmandu international airport terminal by a driver holding a Raghu Pilgrimage placard and he will escort you to the Hotel. Important! Please do not give your luggage to the person holding the placard or to anyone else. There are a group of touts who offer assistance then harass newly arrived tourists for big "tips". Please just bring your own luggage to the car to avoid this inconvenience .

If you plan to arrive early or depart late please make sure you make extra hotel arrangements by contacting the hotel directly or we can also help with extra nights bookings.

How many people in each room?
There will be two people accommodated in each room for the duration of the pilgrimage. In Kathmandu and Pokhara we'll stay in 4 star hotels. During the trek the lodges are basic.
Luggage, backpacks and porters
Extra luggage that is not required for your trek can be stored for free in our Kathmandu or Pokhara hotel. For the trek you will be required to have a backpack (preferred) or we can arrange a duffle bag. You can give your backpack or the duffle bag with up to 10kgs (22lbs) trek to your porter. In addition to this you can carry a daypack with water, camera, toiletries, snacks etc..


Trekking
The trek will be in a very beautiful part of the Annapurna region. Expect to trek about 5-7 hours daily or about 10-14 kms per day. One day we trek 16 kms (about 7 hours). It is recommended that you prepare for the trek by suitable training such as climbing hills or stairs, jogging, and spending some time in the gym to improve your stamina for a few months prior to the trek. If you are quite fit and do sufficient training prior to arriving in Nepal the trek will be enjoyable, and it is suitable for fit people in to their early 60's. The highest altitude we reach is 3200 meters at Poon Hill and then 3700 meters at Muktinath both of which offer breathtaking view of many of the World's greatest peaks. It is stunning! Please have two passport photos with you when you arrive in Katmandhu. One for your visa on arrival and one for your trekking permit which we will arrange for you. 

Altitude sickness is not common on this trek since we ascend somewhat gradually. In case you start feeling bad immediately inform the guide who is expert in dealing with such issues.
Any trekking equipment such as walking poles, jackets, water bottles, rucksack are very easily available in Kathmandhu quite cheaply near our hotel. Bring somewhat well worn trekking shoes.

Which currencies are accepted in Nepal? Some major currencies (USD,AUD,EURO) are accepted for both visa and in general. There are plenty of ATM's in both Kathmandu and Pokhara and credit cards are accepted in limited shops and many restaurants. Please note that only Nepali rupees are accepted on the trek.

Drinking Water on trek?
There are two good options for having proper drinking water during the trek. You can bring water purification tablets or fill your bottle for a nominal fee from the recognised and regulated "pure water" stations along the trek. As a last alternative you can also purchase bottled water at the lodges but this is not recommended.
It is very important that you drink at least 3 liters of pure water daily during the trek.

Vaccinations
Please consult your doctor/local travel clinic for the latest recommendations regarding vaccines in Nepal. Most trekkers don't take any vaccinations for this trip but please do some research and make an informed decision.

Is there Laundry facility on the trek?
There will be laundry facility in Kathmandu and Pokhara but not while on the trek.

What Clothes shall I bring?
It's important to have the proper clothes and be prepared for unexpected weather high on the trek. Fairly well worn hiking boots/shoes are a must! Although it's often sunny and pleasant during the day please bring a jacket suitable for 4 to 6 degrees celcius for early morning and late evening. We can also provide a jacket if you don't mind a used one.
Daytime weather will tend to be warm and pleasant with some strong wind. Better to be on the safe side in preparation. The porters are available to carry the bulk of your items. Kathmandhu and Pokhara are filled with stores selling discounted trekking clothes. You can easily and cheaply purchase your jackets, hats, daypacks, backpacks etc.. BUT, bring your hiking shoes from your country. The Nepali ones are not good quality.
Sleeping Bag We can provide a bag if you don't want to bring one. If you are very sensitive to using a used bag than best to bring your own or purchase a new one in Kathmandu.
Visa
 You can get a visa in Kathmandhu airport upon arrival for $25 USD (or equivalent in other major currencies) for a 15 day visa or $40 USD for a 30 day visa. Please bring a photo for the visa. Expect to have some waiting time in the que for obtaining your visa. You can also get your visa prior to coming on the tour by contacting your closest Nepali embassy but most people just get theirs on arrival.

On the trek we stay in simple lodges (tea houses). The bathrooms are generally outside the rooms and hot water is dependent on solar panels so don't count on many warm showers.

What do we eat?
As this is a pilgrimage we follow the pilgrimage codes so strictly vegetarian/vegan and no alchohol. During the trek all meals are covered but not extras such as soft drinks etc... In Kathmandu and Pokhara breakfast and dinner is included and we can give recommendation on where to get lunch but it is not included in the pilgrimage cost.
Everest? We won't see Everest on this trek but if you arrive in Nepal on the 26th or late on April 8 we can arrange the Everest scenic flight in the early morning. It costs about $200.
Travel Insurance?
It is strongly advised that you get traveler's insurance. Please consult with your travel agent to choose a suitable insurance company. 
Insure and Go or World Nomads (click) are two possible insurance companies. Travel insurance is compulsory for all clients taking the EBC or Annapurna Circuit treks. It should provide adequate protection for the full duration of the tour to cover personal injury, death, medical expenses, repatriation expenses, helicopter rescue, air ambulance and adequate cover for baggage.
Weather in Nepal? Here is a good site to understand weather in March – April in different parts of Nepal. Here's the coldest place we'll visit. https://www.accuweather.com/en/np/muktinath/242547/month/242547?monyr=4/01/2017


How much money for my personal expenses?
It's difficult to give an exact amount of money that you should bring. Costs will vary according to how much you want to spend for shopping and where and what meals (lunch) you want to eat in city. It is advised that you change at least $150 USD in to Nepali rupees to bring with you for the trek. Only Nepali rupees are generally accepted on the trek. Nepal has incredibly cool stuff so leave some space in your suitcase
---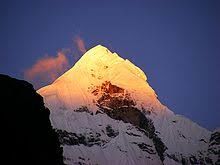 "My father considered a walk among the mountains as the equivalent of churchgoing."- Aldous Huxley
.Porters
 For the trek we'll have a suitable number of porters to carry your luggage. The weight limit for the trek is 10 kgs per person. Before the trek we will store all our excess baggage in our Pokhara hotel and only take what we require on the trek.
Tips
 Tips to the Nepali drivers, porters and guides are appreciated and appropriate. It is standard practice to offer a total of $8 - 15 per day in tips. Please tip according to your means and inspiration. The tip can be offered at the end of the trek.

What should I bring?

What should I bring?
 Note: Nepal is a pretty conservative country. Modest dress is appreciated. 
. Day pack (rucksack)
.Back pack (porter will carry it) or we can provide a duffle bag. Recommended size: Sufficient to carry about 10 kgs of clothes
. Well worn Hiking boots or shoes
. A pair of sandals
 Sleeping Bag (We can also provide one)
. Yoga mat 
. 2 passport photos for trekking permit and visa on arrival
. A one - liter hard water bottle to be filled up along the trekking trail
. Warm jacket (we can also provide)
. Light-weight cotton clothing
. Water proof jacket (a fold -away windcheater is fine)
. Light sweater
. Bath towel
. Sun hat
.Sunglasses
. Mosquito repellent
. Sun cream
. Knee supports (optional for the downhill portions of the trek)
. Trekking poles
. Chap stick
. Water purification tablets or some other technique for purifying water 
. Small First-aid-kit ( Our guide will also carry one)
. Headlamp (preferrable) or Flashlight (torch)
. Camera
. Loose stomach and nausea medicine
. Toiletries for trek (toilet paper, soap,shampoo etc...)

Much of your trekking clothes and supplies can be easily purchased in Kathmandhu near our hotel at good prices. Bring hiking boots/shoes from your country. The Nepali ones are not recommended.
Risk & Liabilities: We are committed to providing the best services which will give you a once in a life time journey. We perform our duties honestly & seriously to make your journey very smooth & pleasant.

We shall not be responsible for any changes in the itinerary due to unavoidable circumstance such as govt. restriction, Land slide, road blockage, flood, snow political unrest, cancellation of flight, delay, sickness or accident, Any extra cost incurring there of shall be born by the clients on the spot.

If you have any questions please don't hesitate to contact us. raghu.pilgrimage@gmail.com
---
self investment:
$3500 includes all internal travel, food hotels, and teachings & classes. Does not include international travel. $300 discount if registered by Friday Nov. 24th with a $500 non - refundable down payment. REGISTER HERE: RAGHU.PILGRIMAGE@GMAIL.COM